Infomaniak Events is a free communication and sales medium that we provide for YOUR events.
By centralising the distribution of your events on YOUR portal, you redirect your customers to a unique, secure and recognised forum for the sale of your tickets.
On this page, you will find all the key information in order to communicate about your current and future events by incorporating your Infomaniak Events portal 😊
How to use the templates?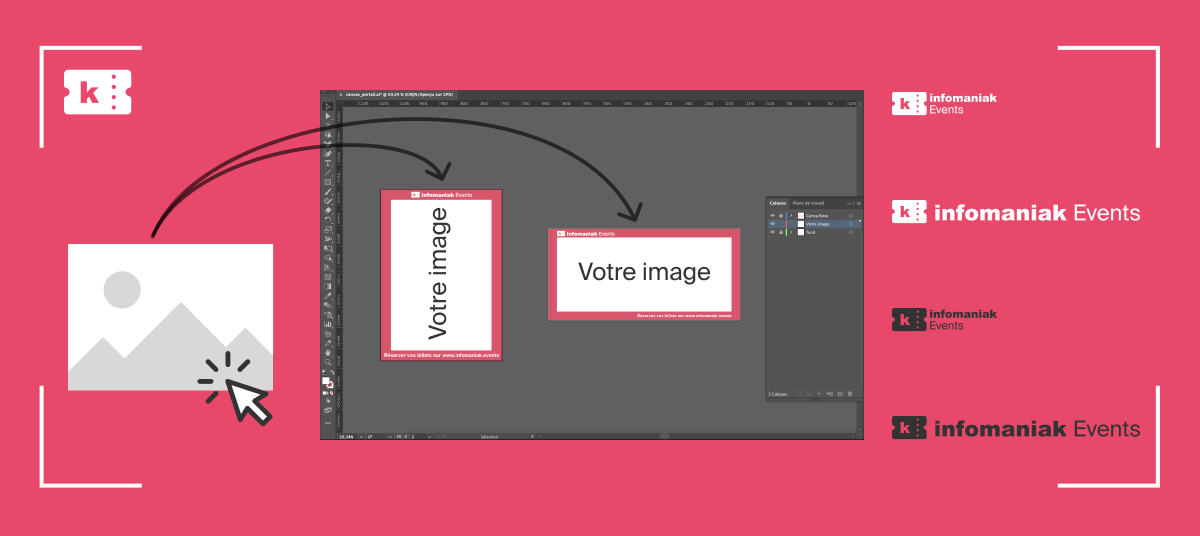 You can use the following templates to print your posters or for your social media publications in order to inform your customers that they can reserve your event at infomaniak.events
Download the template
How to use the logo?
The Infomaniak Events logo can be used in your different communication media: social media, digital media, etc. In order to satisfy all requirements, the logo can be produced in the different colour variations authorised.
Download the logos
Compliance with the charter
Free use may be made of the Infomaniak Events logo, subject to compliance with our graphic charter.
Do not change the colour of the logo
Do not deform the logo
Do not use on a background such that it is illegible
Do not use the logo on 2 lines and do not separate it
Do not rotate the logo
Promotion of your events
The Infomaniak Events logo and name can only be used to promote (or refer to) events affiliated with Infomaniak Events. The Infomaniak Events logo and name cannot be used in any context which could cause confusion for customers or participants in the event.
In the case of online use (websites, blogs, social networks, etc.), any mention of the Infomaniak Events brand or use of the logo must include either:
• a direct link to the event in question
• a link to the list of events you are organising (your organiser page)
• a link to the Infomaniak Events home page
Redirection link
If you wish, you can add a redirection to the Infomaniak Events portal from your website or any other digital medium by using the link below:
By using the Infomaniak Events image, you agree to follow the above policies. Infomaniak reserves the right to cancel, alter or change the conditions of use of its image at any time. For more information concerning use of the Infomaniak Events image and logo, please contact our communication service .